Friday, December 11, 2020 / by Rachel Green
This year has been anything but ordinary, and this holiday season is no exception. But if you're like us, there's no way you're missing out on the magic of the season. So we created our own 12 Days of Christmas to make your holiday season sparkle this year.
Did you know the 12 Days of Christmas technically starts on December 25th and runs through January 5th? I had no idea until writing this. We've put this together to help you celebrate the hoildays, so you can choose any or all 12 days... they don't even have to be in order.
GIVEAWAY! We are giving away a Winter Wonderland Package in January. To enter, simply post a photo of you doing one or all of the 12 days activities and tag us on Facebook and/ or Instagram. Each post is worth one drawing ticket. The winner will be announced on January 6th.
Facebook: @saltlakehomesteam
Instagram: @salt.lake.homes
Day 1 - Private Chef-Prepared Dinner at Home [BYOC]
Chef Travis Herbert has traveled the world, perfecting his culinary craft for over 20 years and now he is home in Millcreek, raising his kids and creating magic in his wife's kitchen. You can order one of his pre-fix menu items and he will make it and deliver it to your door. Visit
mywifeskitchen.com
to view the menus and order your dinner today. Note: dinners sell out quickly and you must order two days in advance. Just set the table and bring your own champagne.

Photo: Travis Herbert
Day 2 - Hot Cocoa, Lights, and a Story
Get into the holiday spirit with hot cocoa from
Sweetaly
at in the 15th & 15th neighborhood and a self-guided tour of lights.
Grab your cocoa to go and then drive south on 1500 East about a block and you'll see Christmas Street on your left. Every year, Glen Arbor Street [1745 South] turns into Christmas Street with nearly every home on the street decked out with lights. [We recommend turning off the car lights as you drive through.]
When you exit the street, you'll be on 1500 East again. If you go straight [west] to 1400 East, and Blaine Ave, you'll find a story. The biblical Christmas story is told on displays in the yards of the homes on each side of the street. The story takes you through the horshoe and you'll end on 1400 East.


[See also, Drive Thru Light Displays for more options and locations of dazzling light experiences.]


Day 3 - Zoo Lights

Every year, the animals at
Hogle Zoo
convince the keepers to put up lights for the holiday season and it is quite the display! And every night through Christmas Eve, you can visit Santa at the zoo, with a paid admission to
Zoo Lights
. Share and tag a photo for your chance to win the Winter Wonderland Giveaway!
Day 4 - Make Cookies

Our very own Wendi Gladwin sure is making good use of her time at home this season. This is her cookie recipe and we did our homework... they are so tasty! They have a wonderful crunch with a softer middle and they melt in your mouth!
Hershey Snow Ball Cookies
1 c. butter or margarine, softened
2/3 c. sugar
1 tsp. vanilla extract
1 2/3 c. all purpose flour
1/4 c hershey cocoa
1 c. finely chopped pecans
1 (12 oz.) bag hershey chocolate kisses
Powdered Sugar
Instructions:
Beat butter, sugar, and vanilla in large bowl until creamy
Stir together flour and cocoa
Gradually add butter mixture, beating until blended
Add pecans
Beat until well blended
Refrigerate dough about an hour or until firm enough to handle
Heat oven to 375 degrees
Remove wrappers from kisses
Mold tablespoon of dough around each kiss, covering completely
Shape into balls and piece on ungreased cookie sheet
Bake 10-12 minutes or until set
Let cool then toss in bowl of powdered sugar so each cookies is completely covered.
ENJOY!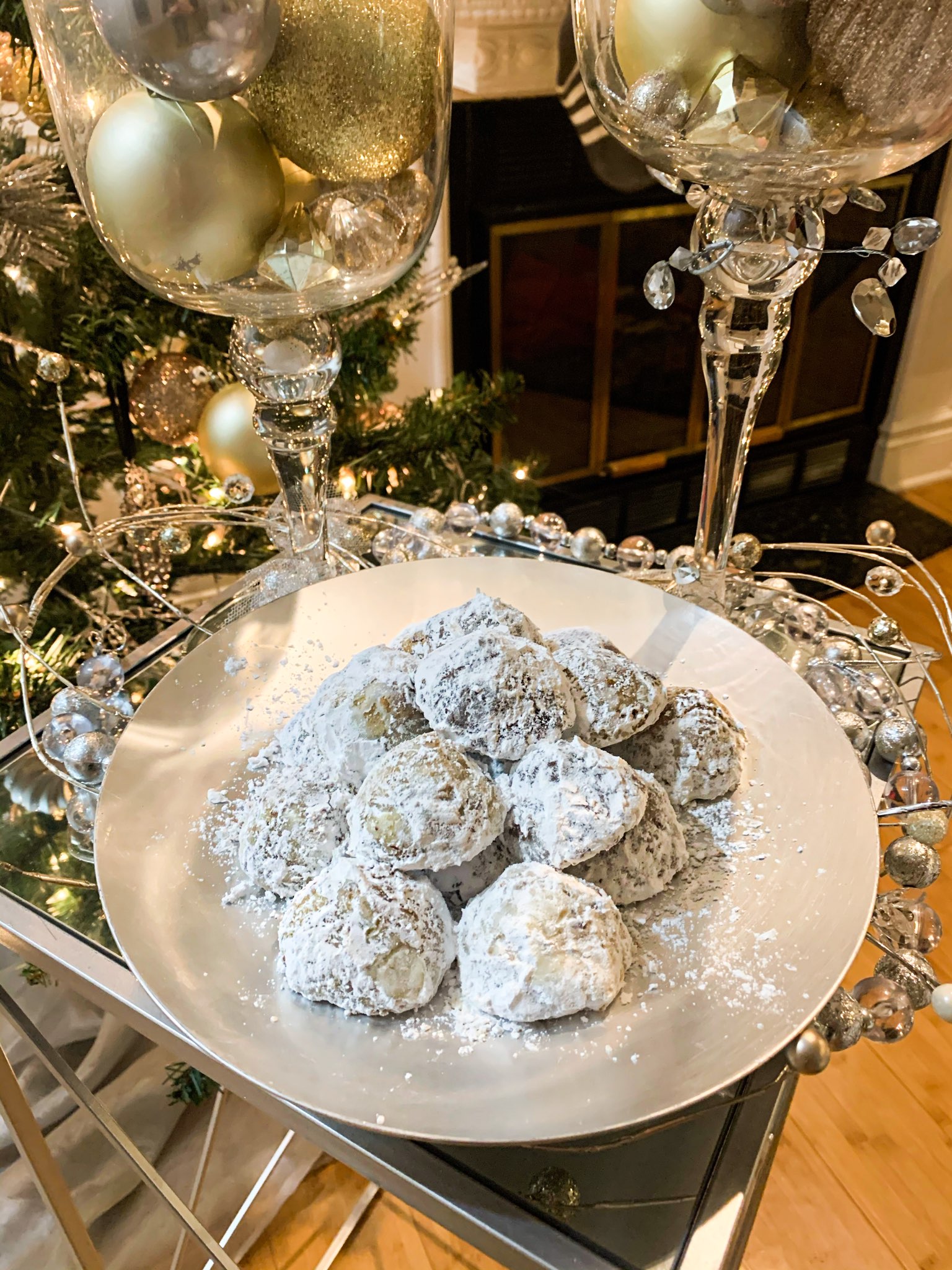 Note: For those wondering, Muyly Miller's Cake Kits are sold out, so Day 5 did change to a cookie date!
Day 5 - Picnic by the Tree

Now that you have a solid stash of delicious homemade cookies, it's time to enjoy them in the best way possible... by the tree! No need to set the table today... your centerpiece is tree! Snap a photo and share for your chance to win!
If you didn't bake cookies, you can always get your cookies delivered!
Goodly Cookies
is open late and delivers! And their peppermint bark cookie pairs nicely with the season. While you're waiting for the cookies to arrive, make a few snacks [some call it dinner] and plug in the tree. Snap a photo, share, and tag for your chance to win.
Day 6 - Popcorn and a Movie
"Pop" over to
Lisa's Passion for Popcorn
and grab yourself a bag [or few] of this gourmet treat at their store in Trolley Square. They have tons of flavors to choose from! Then put on your favorite Christmas movie [or the Hallmark channel if it's not already on] and enjoy!
If you prefer to stay in and make your own, pop some popcorn and while it's hot, shake in some of your favorite candy or chocolate chips and snuggle up with your favorite Christmas movie.

Photo: Lisa's Passion for Popcorn
Day 7 - Luminaria at Thanksgiving Point
Thanksgiving Point has designed a light experience that will make your heart glisten. With time slots to promote social distancing and one-way walking paths throughout, you can take in this extraordinary light show safely. Get info and tickets for
Luminaria here
.
[See also,
Drive Thru Light Displays
for more options and locations of dazzling light experiences.]
Day 8 - Dine in a Snow Globe
A Midway restauranteur has invented a snow globe [they call it Alpenglobe] that you dine in. It's perfect for the Covid-era, because only you and your dinner party dine in a globe. And at Cafe Galaria, they serve up some of our favorite pizza. The Alpenglobes book up fast and reservations are required in advance. Reserve your
Alpenglobe here
.
Day 9 - Share Joy.
Nothing makes us feel more cheer than when we do something for someone dear. Doorbell ditch someone with a treat and a sweet note.
Day 10 - BYOB [Be Your Own Bartender]
You don't have to belly up to Nutcracker Bar to have a glass of cheer this year. Be your own bartender! Here are some drink recipes to get you started, whether you imbibe or not.
Hallmark Spritzer
: La Croix with Frozen Blueberries in a champagne glass.[add vodka if you like]
Frosty's Nog
: Eggnog in a fancy glass w/ a dash of nutmeg for garnish. [add spiced rum if you like]
Reindeer Punch
: This will light up your taste buds like Rudolph's nose lights up the night sky.
In a shaker, combine 1 oz. gin, 1 oz. grapefruit juice [fresh squeezed is the best], 1/4 oz.simple syrup [you can buy at Harmon's in the drink mixer aisle] or make yourself, a dash of rosemary. Shake until frosty. Pour into fancy glass and fill with champagne. Garnish with fresh rosemary sprig [optional] and wheel of grapefruit.
Mistletoe Martini
: This martini is another hit recipe brought to you by Wendi Gladwin, although originally under a different name, is refreshing and bubbly: 1 ounce gin + 1/2 ounce dry vermouth + 1/2 oz Christmas Tree Syrup [see below for reicipe] + a dash of lime juice. Top with frozen cranberries. Fill with champagne. Garnish will fresh pine needles.
Christmas Tree Syrup:
Handful of Pine Needles
1.5 c. granulated sugar
1.5 c. water
Pluck the freshest, greenest needles from your Christmas tree [or the tree in your neighbor's yard] - wash and chop them. [NOTE: some pine trees can be toxic, so do a quick Google search to make sure yours isn't.] In a small saucepan, combine sugar and water and warm over medium heat until sugar is dissolved. Remove from heat and add pine needles. Let sit for a few hours [or overnight]. Strain into a container and refrigerate until ready to use or up to two weeks.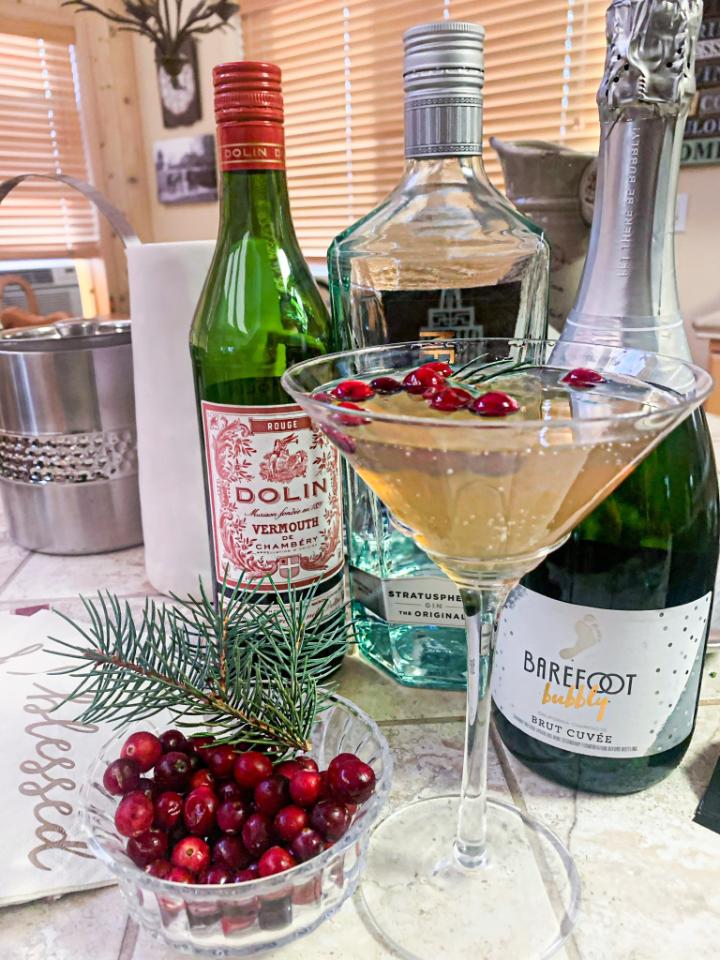 Photo: Wendi Gladwin
Day 11 - Head to the Hills for Tubing
Gorgoza Park in Parleys Canyon is now
Woodward Park City
. Basically you get to go tubing on the biggest hill with a tow rope to get you to the top every time. It's an exhilerating experience and done right, completely socially distant.
Day 12 - Give Back.
This idea was inspired by a Hallmark movie that was on in the background while writing this. I think it is literally called 'The 12 Dates of Christmas'. In the movie, they buy coffee for themselves and a stranger nearby. We loved this idea and thought is was perfect for the last day of the 12 Days of [Covid-Safe] Christmas. Go to your favorite drive thru coffee shop, buy yourself your favorite peppermint mocha or gingerbread latte and pay for the coffee behind you. Cheers!
Don't forget to post your photos for your chance to win the Winter Wonderland Giveaway!
What is the Winter Wonderland Giveaway you ask? Dinner in an Alpenglobe at Cafe Galleria and tickets to the Midway Ice Castle.
We hope this 12 Days of Christmas brings you hope, joy, and cheer this holiday season!