Tuesday, January 12, 2021 / by Rachel Green
It seems the question on everyone's mind is, 'What is going to happen in the housing market?'
As the new year brought new optimism and a hopefulness, so far 2021 is looking a lot like 2020. We are still in the middle of a pandemic, with rising unemployment, political unrest, and widespread uncertainty. In the midst of all this, 2020 was a record-setting year for real estate in Utah, but what is the future going to hold?
Last week, the Salt Lake Board of Realtors held their annual Housing Forecast [virtually of course], bringing in experts from the Kem C. Gardner Policy Institute at the University of Utah, and the National Association of Realtors.
As you know from "How's the Market", 2020 was on track to have more home sales than 2019 and had some record-setting months for home sales in Utah. According to James Wood, Economist and Researcher at the Kem C. Gardner Policy Institute, 2020 was indeed a record-setting year for Utah

– s

etting the all-time record for home sales, including in new construction with 41,000 new units, beating the previously held record in 2005. In Salt Lake County alone, Wood suggests homeowners collectively gained $10M in equity in the year 2020.
While the housing economy continues to soar in Utah, we did experience a minor set back in job growth, along with the rest of the country, which continues to be the driving force of our local market. Wood says Utah lost about 50,000 jobs, which is one year of job growth, however unemployment lingers around only 1%. Given all this, Wood calls 2020 "a very surprising year". I'd say.
Wood also mentions Salt Lake City as being a "Zoom City", where office-workers from more expensive markets work remotely in Salt Lake. It is uncertain whether this segment of the market will be sustained after [or if] we return to traditional office settings. This does not impact the continued growth brought to Utah by the tech industry.
Last year was the nineth year in the "longest stretch of appreciation over 4% in Utah", says Wood. We have also seen a 39% increast in total mortgage payment amount between 2015 to 2020, which offsets the decline in interest rates. As prices increase, so do taxes and mortgage insurance.
So, what does this all mean? Are we hitting a housing bubble?
Wood forecasts a 3.8% increase in jobs [60K] in 2021, which will be the greatest increase in number of jobs in Utah in a single year. Total sales are forecasted to increase by 500 units over 2020, making 2021 the new record in number of homes sold in a year in Utah. Along with an increase in home sales, Wood is expecting to see an increase of between 6%-8% in the value of single family homes, and 10% increase in the value of condos and multi-family units.
So, is Utah alone in having such a booming housing market? Dr. Lawrence Yun, Chief Economist from the National Association of Realtors, gives us a perspective from a national standpoint and relates it to what he expects to see here in Utah.
In April 2020, the U.S. lost 20M jobs, which represents 10 years of growth, however, many jobs are expected to be restored in the coming months and years. While we saw a job market contraction in Utah, there were 48 states that had lower job growth than Utah in 2020, with Idaho being the only state to see a higher rate of job growth. That is certainly good news for Utahns.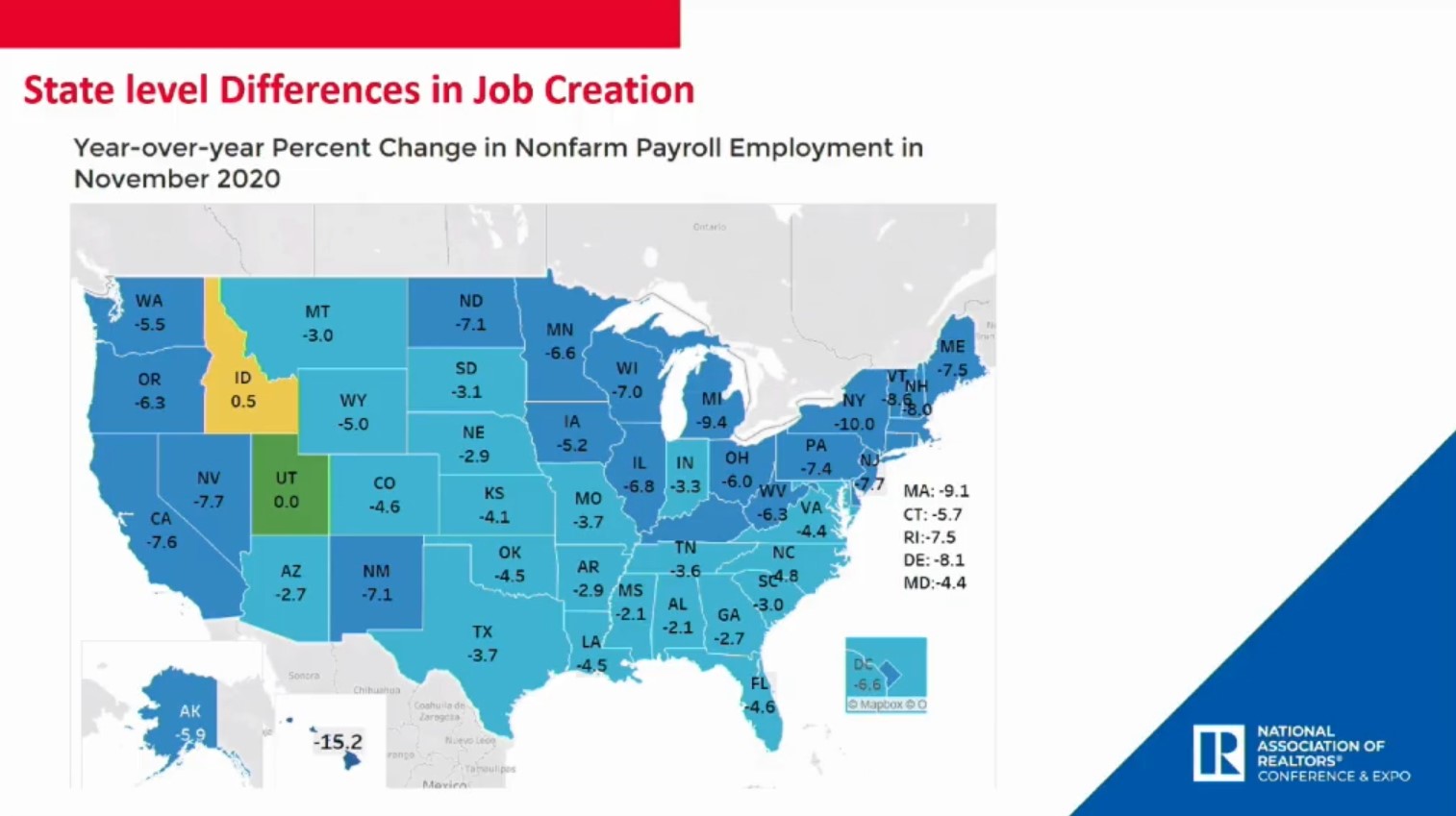 Digging deeper into the state of our economy, Yun looks at all the factors that affect the housing economy. Yun anticipates inflation to increase to offset the growing national budget deficit. He says financing our economy with the printing of money is a predictable method to regain control of our deficit as a nation. While Yun mentions many are investing in bitcoin instead of gold, Yun says, "But I would say rather than bitcoin or gold, go into [invest in] real estate if you think there will be inflation. Because real estatee has always proven to be a very good hedge against inflation".
Furthermore, while many families are struggling and out of work, other families are increasing their savings. Perhaps it's the lessons we learned from the recession that taught us to save our monies –

or perhaps the fact that we are not spending our money traveling and going out as much.



While housing has been the star of this economy, it makes sense, because our homes have been the place where our entire lives are happening lately, from quarantining to the work-from-home trend and home schooling. So many homeowners have also spent money [and gained equity] from home improvements. But it is worth noting the money saved by many households could be their down payment on the next home. Yun points out the increasing number of mortgage applications and how the trend is a solid predictor of home sales. Below you can see the applications for a mortgage took a steep decline for a moment and then made a sharp recovery and continue to climb.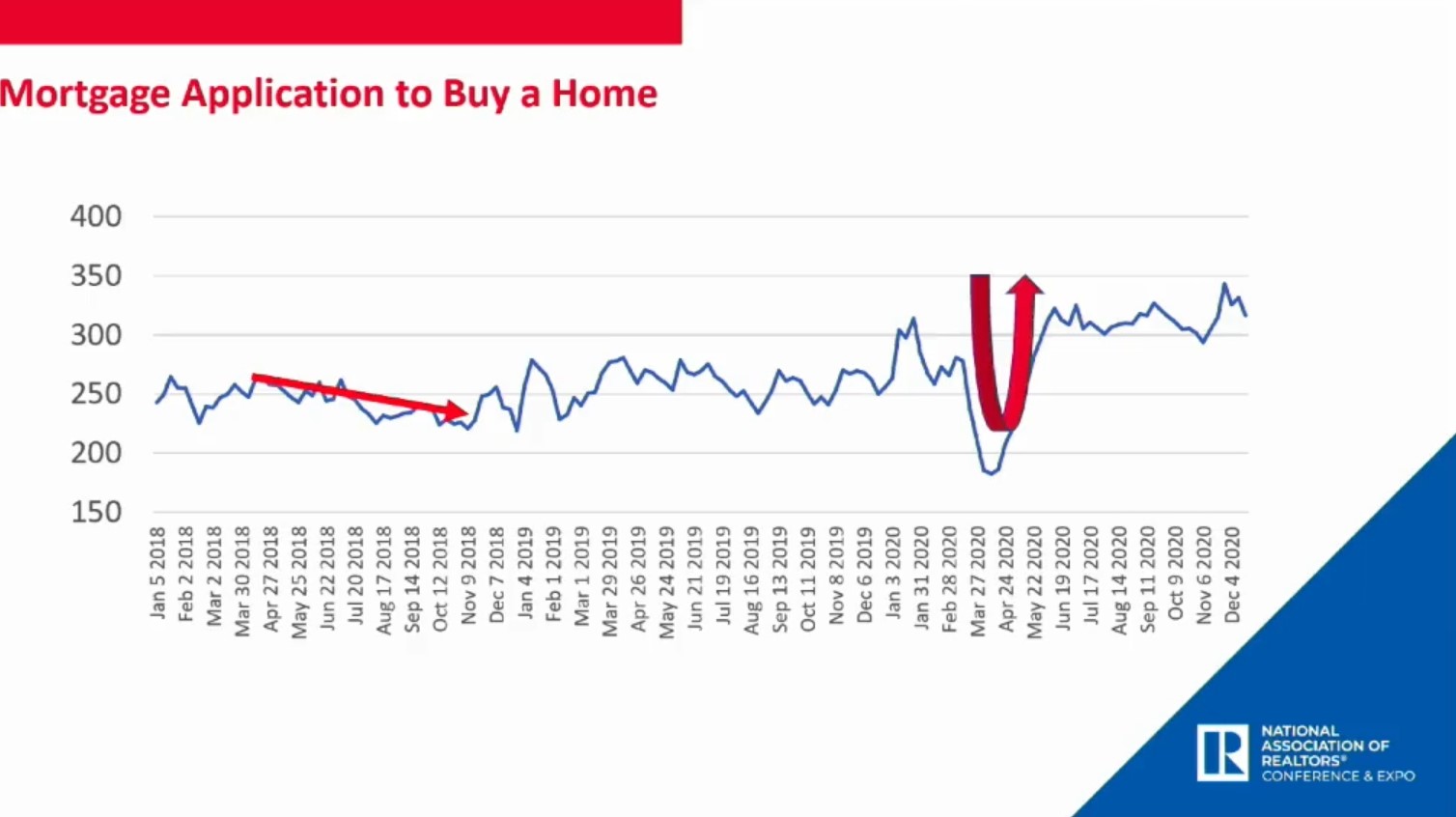 According to Case-Schiller, buyers are buying bigger*. It seems the tiny home trend was short lived when our homes became the only place we could go. Yun's prediction for the housing market is similar to Wood's, with rates staying low, but possibly increasing to the mid 3.0 range again.
This means if you're holding off until the "market drops", you might be holding off for a lot longer, and perhaps indefinitely.
What's in store for your 2021? Is now the time for you to make your move?
Reach out to your Salt Lake Homes expert at 801-893-1088.



*Case Schiller and Housing Market/ Economic Recovery