Friday, October 16, 2020 / by Rachel Green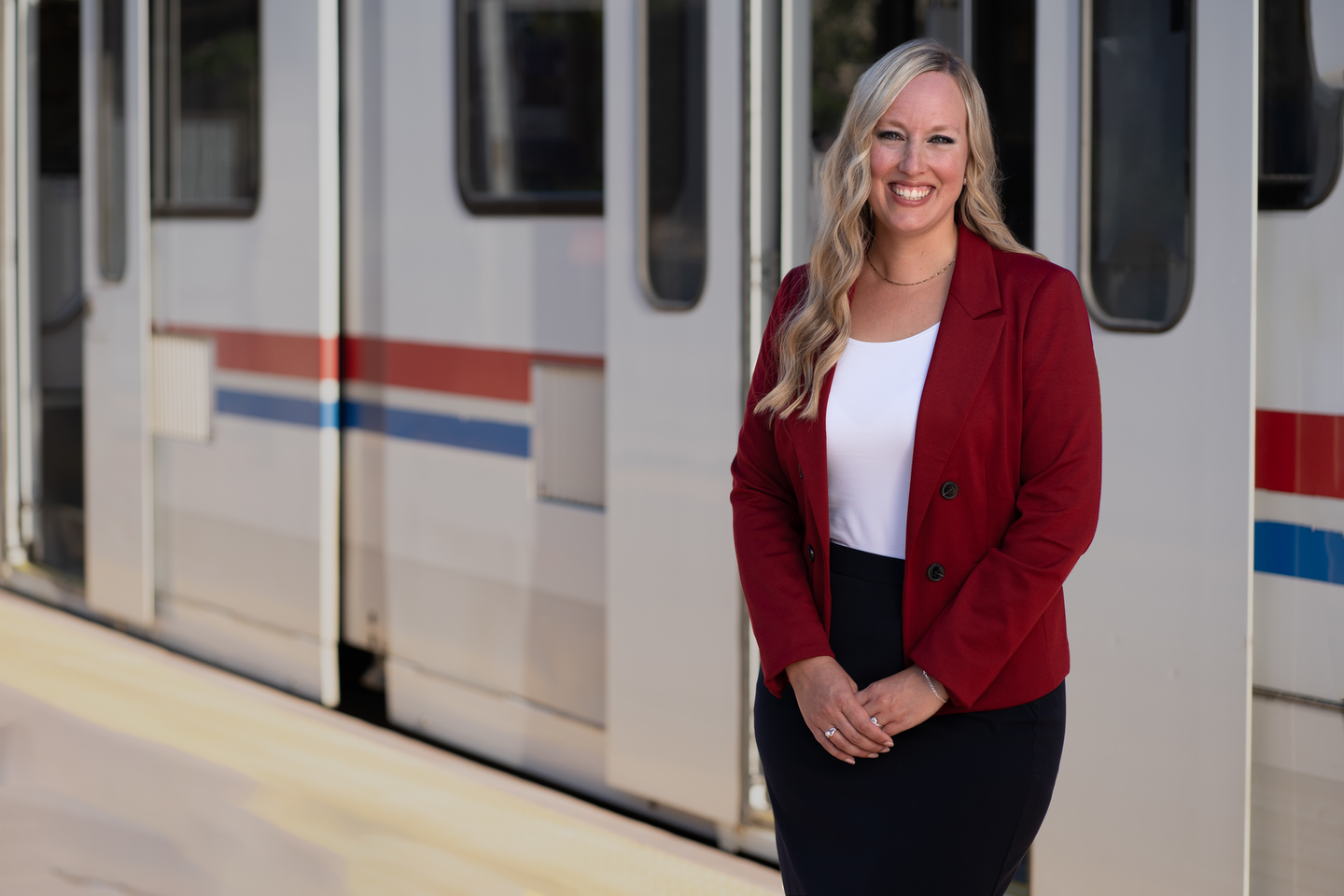 Meet Alisha Garrett – Director of Culture and Talent Development at Utah Transit Authority [UTA].

We first met Alisha through another incredible friend and client, when she and her husband Josh were thinking about selling their first home together. But this isn't about Josh, their ballroom dancing, or Alisha's incredible tulip fest in her yard, worthy of charging admission to gaze upon. This is about her making a difference and being passionate about the work she does, specfiically with UTA. Alisha was recently named Top 40 Under 40 by Mass Transit, the leading national authority in her industry.
Alisha joined the Utah Transit Authority (UTA) in May 2012 with 8 years of operational business and analytical experience and a master's degree in Business Administration. Her first role was as a Business & Quality Analyst for UTA's largest bus division. Alisha's advanced approach to analytics was beyond the UTA norm. In addition to her technical skills, Alisha had a unique ability to process complex information, and more importantly, the skill to translate that information into data-driven results.
Alisha took a hands-on approach to assist front-line employees in process improvement activities resulting in several successful projects that improved working conditions, enhanced customer experience, and increased operational efficiency. She was able to forge strong relationships with employees and leaders across the business unit. She gained a broad understanding of how the organization worked. Within a few months, senior and executive leaders throughout the agency took notice and recognized her as an incredible talent with untapped leadership capabilities.
Alisha has an incredible work ethic. It is common practice to find her available outside of normal business hours to work with employees seeking her assistance. Her background and experience made her a natural choice to join UTA's inaugural Lean Champion team, as she was hand-selected to participate by the Chief Operating Officer (COO). While participating on the team her knowledge and expertise of operations, budget and culture work gave her exposure across the agency. Her operational results and servant leadership approach garnered the trust of UTA's executive team, seeking out her skills for executive level analysis, process improvement and facilitation. As an example, the Chief Finance Officer (CFO) asked her to conduct financial analytics and help support the budget office as an Operations subject matter expert. Alisha's outgoing personality and can-do attitude fueled her success. She became a go-to resource throughout the agency.
Alisha's work with the Lean Champion Team pushed out concepts that lead to broad UTA culture change. Based on her success, in 2015 Alisha was chosen to lead UTA's new Continuous Improvement (CI) Department. After leading that department for 13 months, Alisha advanced to the Director of Culture & Talent Development. She was appointed to this position after demonstrating abilities beyond her analytics and CI expertise. Alisha organizes individuals around a vision, helps them see the broad impact of their work, and guides them as they implement strategies to accomplish the vision. Her willingness to coach and mentor employees, while holding them accountable to accomplishing the work, helps her create a solid team that is called upon regularly to assist with agency objectives. Alisha walks the talk when it comes to leading UTA's culture initiatives, both within her department and across the agency.
The department of Culture & Talent Development (CTD) is made up of 17 full-time employees. The team is comprised of UTA's Bus Operations Training, Maintenance Training, Leadership Development, Corporate and Compliance training as well as Culture & Continuous Improvement. Alisha has oversight for development programs that support nearly 2,700 employees at UTA. The Culture & Talent Development Department is an integral part of UTA's Chief People Office. Alisha is certified in multiple disciplines which allows her to successfully navigate and support multiple functions at UTA. A few of her recent projects include: onboarding and implementation of electric buses, executive annual strategic alignment process, analyzing model assumptions for 30 year long range $550M financial plan, talent assessment, and succession plan; not to mention being chosen by the CFO to participate in his exclusive succession training called CFO University. Alisha is a value add to her team, the People Office and UTA. She is seen as a resource in both the Transit Industry and the culture/continuous improvement community. Her contributions to UTA and the industry are undeniable. Based on her superior performance and incredible results, Alisha is well deserving of Mass Transit Magazine's Top 40 under 40 Award.
Below are some highlights of Alisha's accomplishments throughout her career at UTA:
Director of Culture & Talent Development:
• Facilitated UTA's 16-member Board of Trustees and Executive Leadership through the Strategic Planning Process; resulted in the development of UTA's long-term 2040 Strategic Plan.
• Appointed as one of only three budget software "super users" outside the finance office; conducted 2018 cost comparison analysis--identified a $7.5M error ensuring budget accuracy
• Redesigned and deployed behavior-based employee engagement survey aligned with UTA's culture model: achieved 75% improvement in employee engagement categories year over year.
• Facilitated an annual strategic objectives and planning process with UTA's executive team to help prioritize UTA's areas of focus, improve alignment and employee communication.
• Empowered the design and implementation of multiple leadership development programs increasing our internal promotion rate of skilled employees.
• Enabled the evolution of an E-Learning environment, conversion to a virtual environment saved up to 73% in-classroom training hours.
• Recalibrated Bus Operator training content and delivery process; increased graduation rate by 10% and improved probationary operator retention by 16%.
• Implemented innovative software platform to increase peer to peer employee appreciation; escalated overall recognition by 65%.
• Partnered with operational units to create Maintenance Mentors & Instructors to expedite the signing off tasks and standards - decrease 30% of overall time spent in the apprenticeship program.
Manager of Continuous Improvement:
• Introduced a new structure for a competitive agency wide CI Team of 40 voluntary UTA employees focused on learning and applying CI concepts to improve the customer experience and overall performance at UTA.
• Hand-picked by the COO to become 1 of 5 certified Arbinger Facilitators; delivered culture-based training to all UTA employees--directly supported development of high-performance culture and enhanced leadership capabilities
• Developed and standardized process for the CFO and COO to calculate operator wages during the annual budget process; improved operator wage accuracy by 16%
Business & Quality Analyst:
• Designed an algorithm to analyze historical and projected budgeted miles and hours; improved budget metric accuracy by 83%
• Created an excel macro in Maintenance saving $100,000 annually in labor, fuel, and diagnostics.
• Led 25 continuous improvement events; implemented LEAN initiatives—saved $3M in operating expenditures.
Industry Involvement:
• Directed design and implementation of UTA's Culture Model- the UTA Way; shared industry best practice with King County Metro, LA Metro, NJ Transit and RTD.
• Facilitated the onboarding of Electric Buses at the request of the Chief Planning Officer. Identified critical maintenance failures which led to a redesign of both the inverters and motors. This eventually became the OEM standard throughout the industry.
• Planned and facilitated ENO Leadership, APTA Leadership and the NTI Academy hosted by UTA. Alisha is a rare talent with an extremely bright future in the transit industry.