Monday, April 13, 2020 / by Rachel Green
The perks of having a marketing manager who is getting six different certifications in the fitness and nutrition realm are endless, and we want to share them with you. We were inspired by our dear friend and wonderful client, Bounta, to move every hour. During a Zoom cocktail hour, he popped up and did 25 pushups against his very-sexy-modern-floral-wallpapered backdrop. This got us thinking. There are so many unintentional steps we are not getting because of working at home. There are the steps taken to get to your car, office, car, lunch, car, office, car, home. But also, the kitchen and bathroom are likely closer. Your regular watercooler gossip sesh is now virtual and you can interrupt your co-worker in their office with a text, instead of getting up to chat.
So, we hollered at our very own talented and extremely knowledgeable Liza to work us up an on-the-hour, every hour workout to keep us moving. [Not to mention, we hope this is over by swim season, so there's that.] And deliver did she ever. This hour-by-hour workout doesn't ruin your makeup or your 'do. It's just enough to get your heartrate up and remind your legs how to move.
We have programmed each hour as an alarm on our phones, with the exercise as the alarm title. This way, no matter where we are, we will get up and move. Here it is. Right click and you can download this graphic. And as always, be safe. Virtual non-sweaty hugs all around.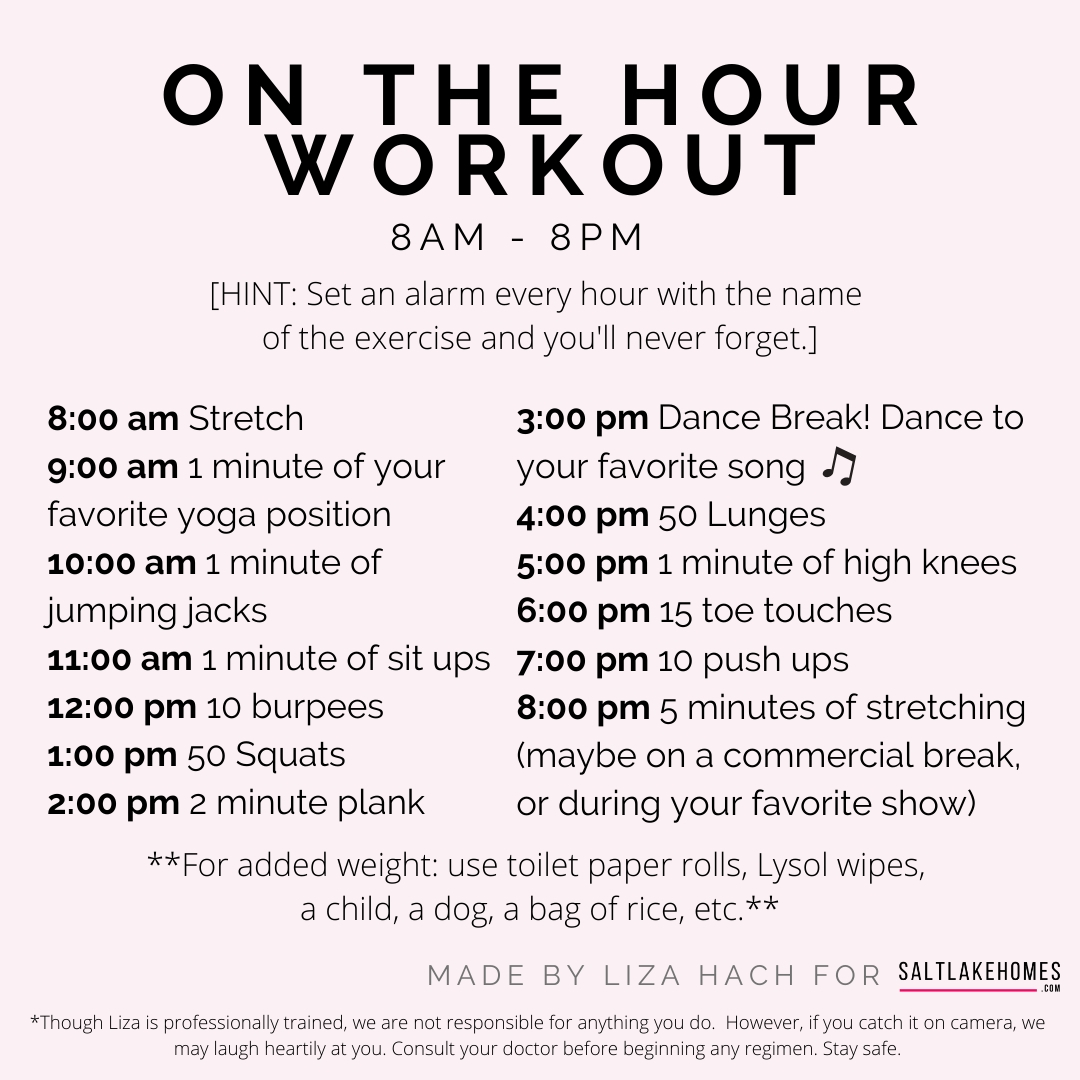 Liza is getting certified through the National Academy of Sports Medicine in personal training, nutrition, corrective exercise, performance training, weight loss, and group training. She has her own personal story of overcoming obstacles to achieve health and wellness. Stick around and you just might get to hear her incredible story. But you'll want it told by her, because without that charming Nashville accent, it's just not the same.