Thursday, May 5, 2022 / by Wendi Gladwin
You won't want to miss it! Over the next few weeks I'll will be visiting and reporting on spectacular murals painted by inspiring artists scattered all over Salt Lake Valley. Visit Salt Lake, a nonprofit corporation that promotes Salt Lake as a convention and travel destination, created an experience by taking a tour of murals highlighting both our traditional roots and forward thinking progressive ideals. It's wicked easy to sign up; simply visit this link to retrieve your passport on your mobile device and join in on the fun! Check-in at each location throughout your journey and then claim a prize at the Salt Lake Visitors Center when you're done!
Now let's get on those walking shoes (jk, the murals are a tich too spread out to walk from one to the next) and see how the artists portray their take on Utah's roots and modern ideals through an array of beautiful shapes and colors!
First Up!
Milk and Honey
Artist : Gerry Swanson
Location : Caputo's Market & Deli
1516 S 1500 E, Salt Lake City, UT 84105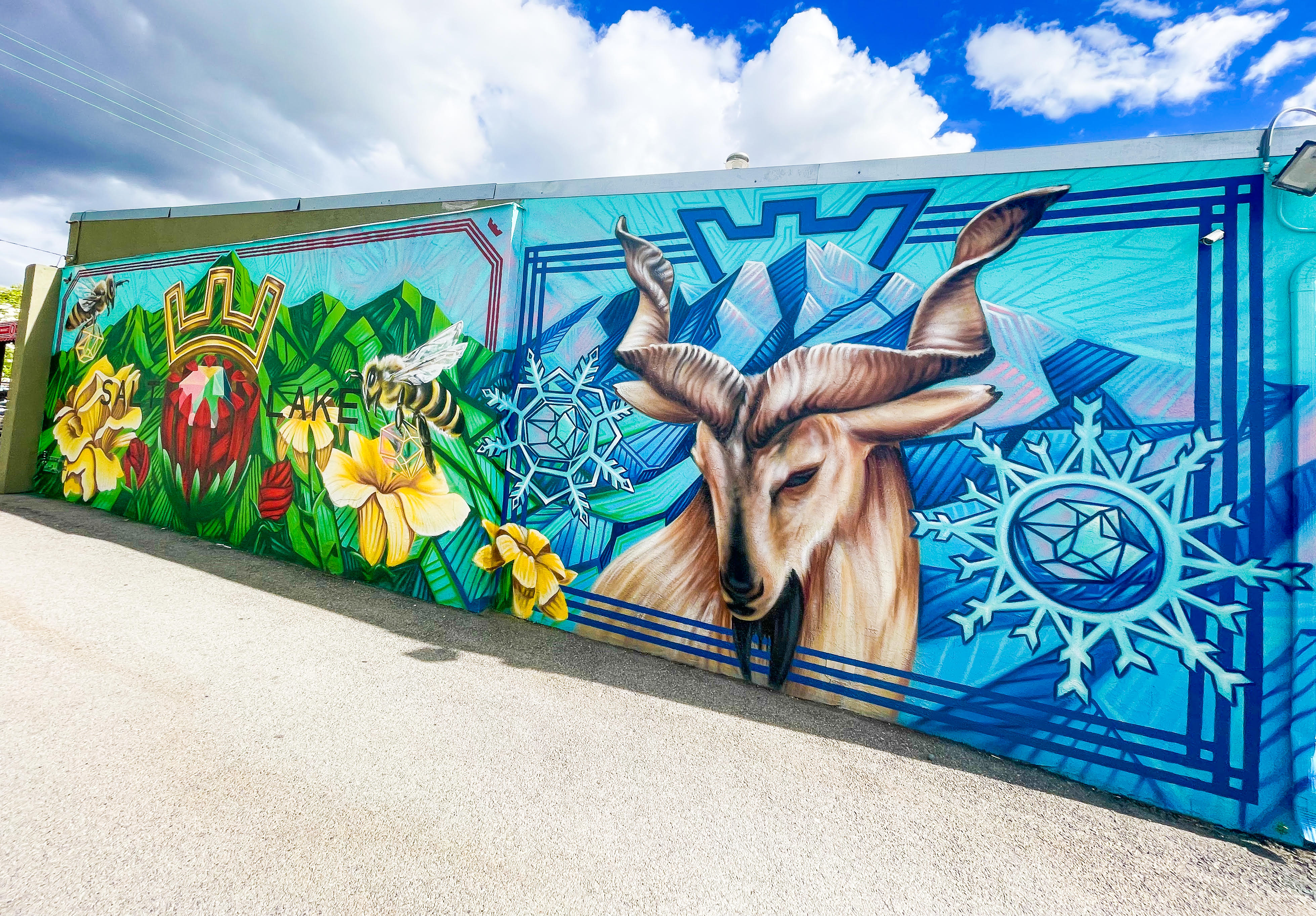 The first stop I made was at Caputo's Market at Deli, where a luscious display of flowers, bees, salt crystals, and snowflakes surround a beautiful Markhor Goat. The artist, Gerry Swanson, captures an array of Utah's natural elements and symbolic representations of the Caputo family heritage and business processes. The artist portrays how a community is similar to a recipe by mixing both realistic and symbolic elements to create a beautiful masterpiece.


Next Up!
Queen Ursa
Artist : Chris Peterson
Location : Hip & Humble
1043 E. 900 S Salt Lake City, UT 84105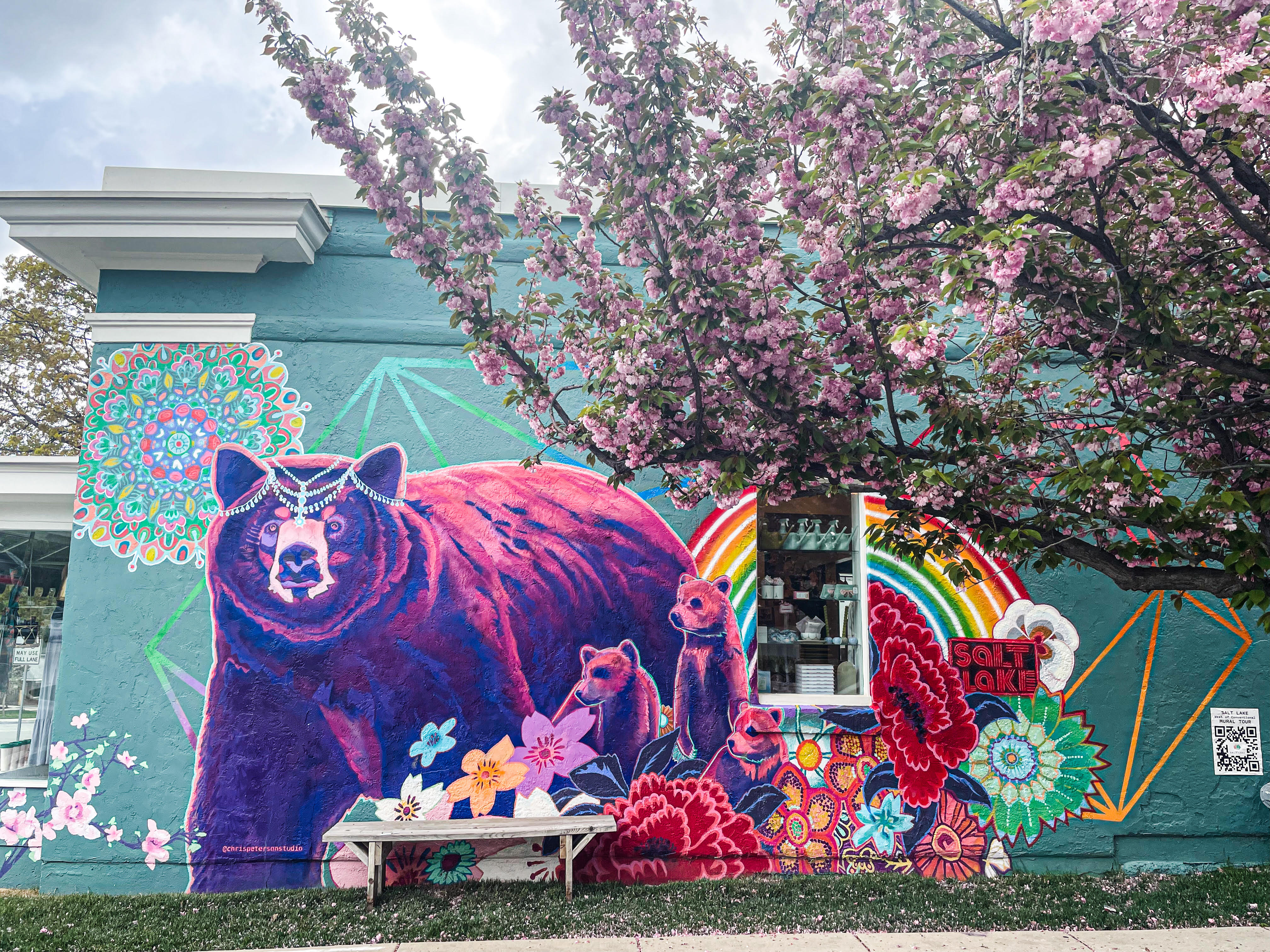 From Caputo's, I headed north toward East High and the University of Utah. On the side of the Hip & Humble boutique lies, in my opinion, the most magnificent portrayal of all things that encompass feministic beauty and inclusivity. The mother bear is both protective and ferocious while displaying warmth and maternal instinct as she protects her cubs. The different patterned flowers and vibrant rainbow display values of diversity, community, and inclusivity stretching across the Salt Lake Valley. The idea of both feminism and diversity spoke loudly to me through this beautiful mural.
Artist : Jimi Toro
659 S. 600 W. SLC, UT 84104
The final stop of the day lead me west to the backside of the Industry building, which is a new, super snazzy co-working space downtown. The artist, Jimmi Toro, takes an abstract approach to represent community and diversity interacting harmoniously together. There is a mixture of both curved and angular shapes while both vibrant color and negative space play off each other. No matter what angle you look at it, you get a different take on the artist's idea of Salt Lake's progressive push forward.


This Week!
A Little Bit Wild, A Little Bit Rooted
Artist : MIriam Gutierrez
Location : The Copper Mine Saloon
9071 West Main St, Magna, UT 84044
Just a short trip west of Downtown, SLC you'll find the mural "A Little Bit Wild, A Little Bit Rooted", by Miriam Gutierrez. She says it best; deep in the heart of a small town where most of the locals grew up and are deep in their roots you can find the comfort of living in a small town while, simultaneously, being on the cusp of an urban lifestyle.


Where We Belong
Artist : Bill Louis
Location : Valley Fair Mall
3601 S. 2700 w. WVC, UT 84119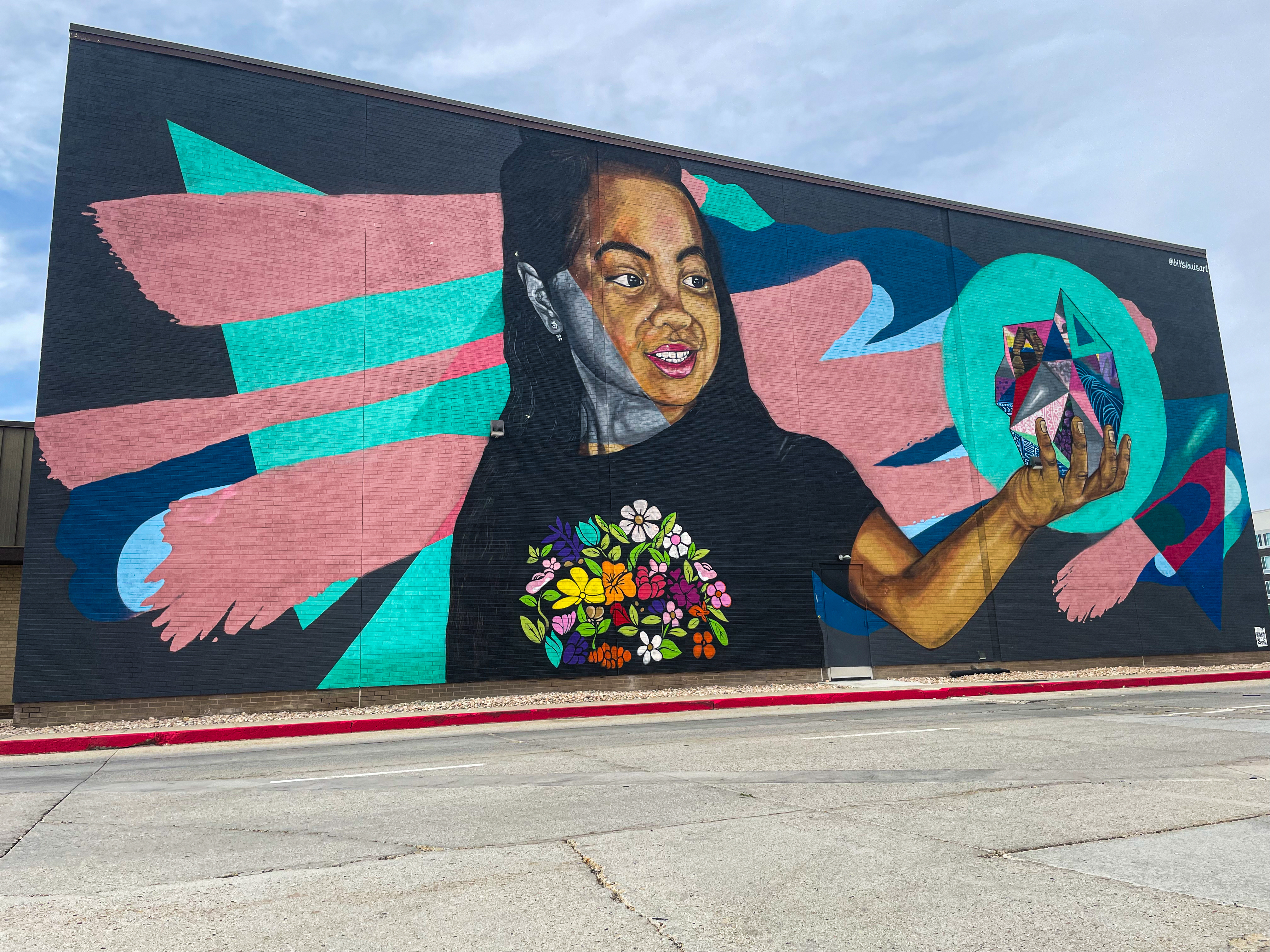 WOW! This mural was larger than life! The artist, Bill Louis, demonstrates a flavor of both West Coast Graffiti and urban contemporary art with the giant mural that he calls "Where We Belong". With combinations of graffiti, family, and Polynesian culture, the artist hopes to inspire those from all walks of life to use their creative side.
Salt Lake Culture & Nature
Artist : Traci O'Very Covey
Location : Mountain America Expo Center
9575 S. State, Sandy UT 84070 Near the south entrance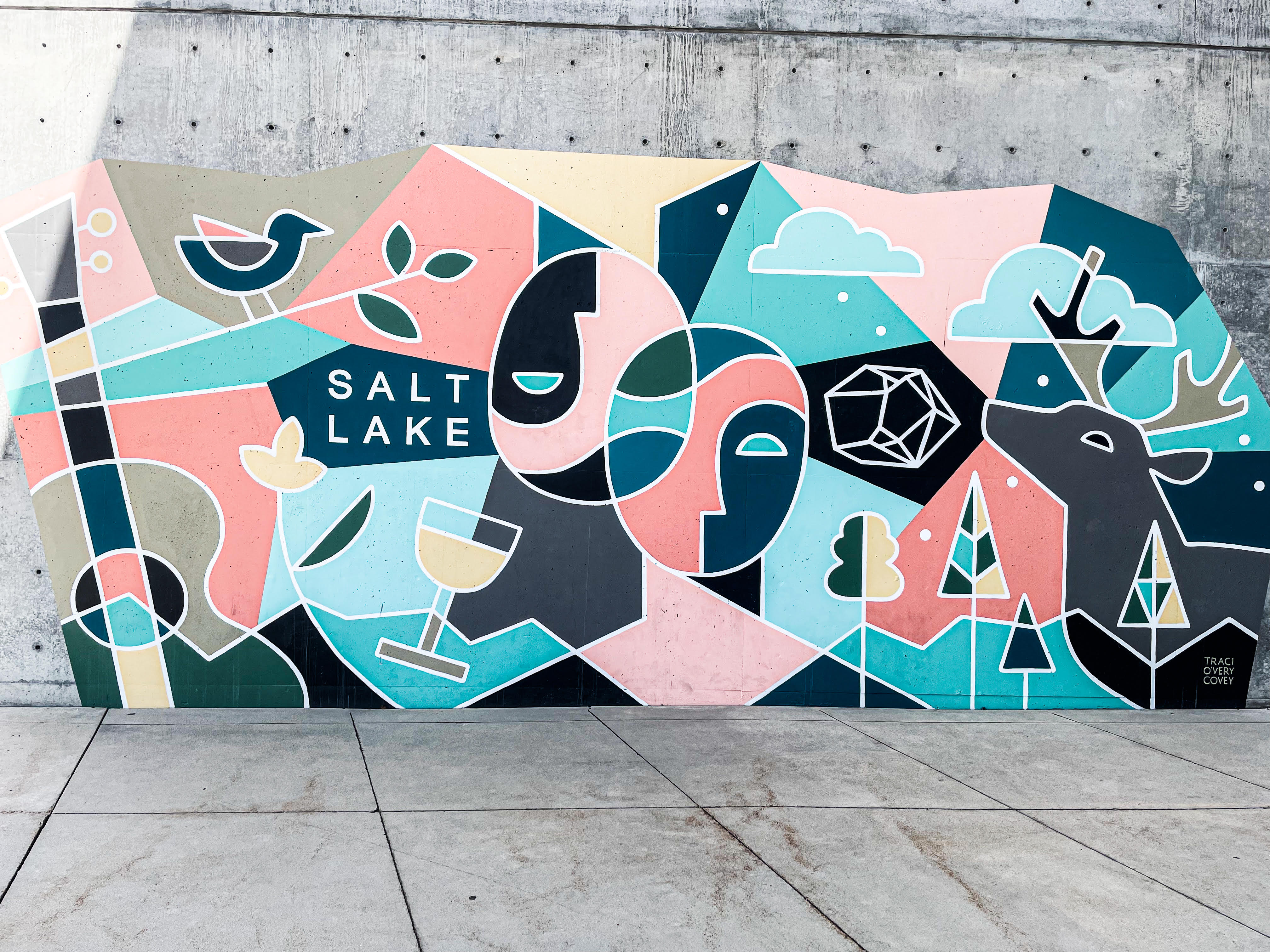 This beautiful piece is sure to remind anyone of all the many sides Utah has to offer! The artist, Traci O'Very Covey, demonstrates the diversity of Utah by combining a mix of symbolic and realistic elements. In this mural you'll find representations of nature, nightlife, entertainment and much more!

Raven Steals the Sun
Artist : Matt Monsoon
Location : Brighton Resort
8302 S. Brighton Loop Rd, Brighton, UT 84121 Ski school building, slightly uphill from main entrance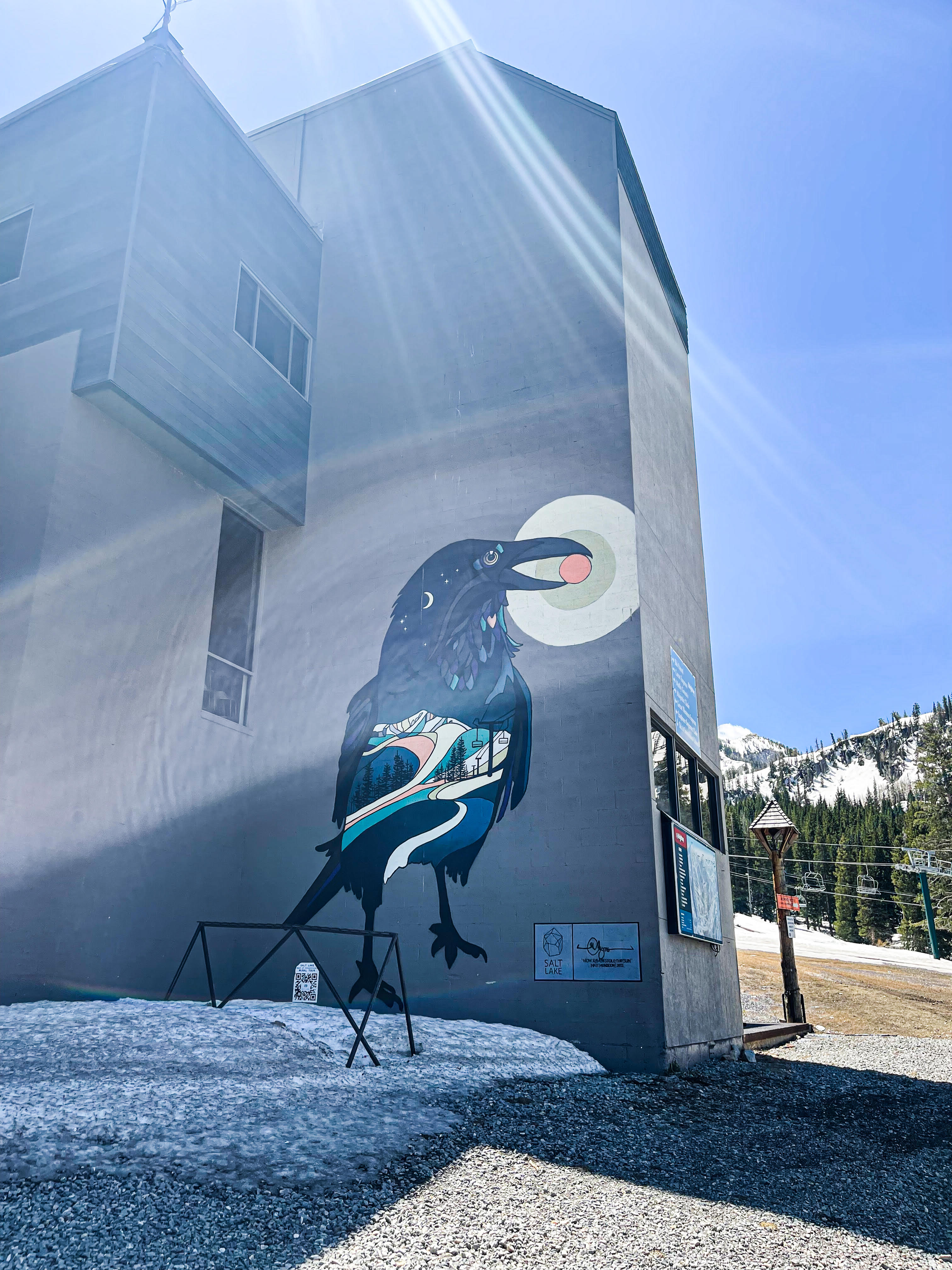 My second to last stop brought me up Big Cottonwood Canyon to Brighton Ski Resort and let me tell you, what I found was a treat! I loved this mural so much. A giant raven is seen holding the sun in his beak. The artist, Matt Monsoon, was inspired by an old legend of the Haida (Western Canada) peoples called "Raven Steals the Sun". Embellished in the raven's body is a beautiful backdrop of Utah's snowy slopes.


This is How We Move
Artist : Jorge Arellano
Location : SLC Center for Science Education
1350 Goodwin Ave, SLC, UT 84116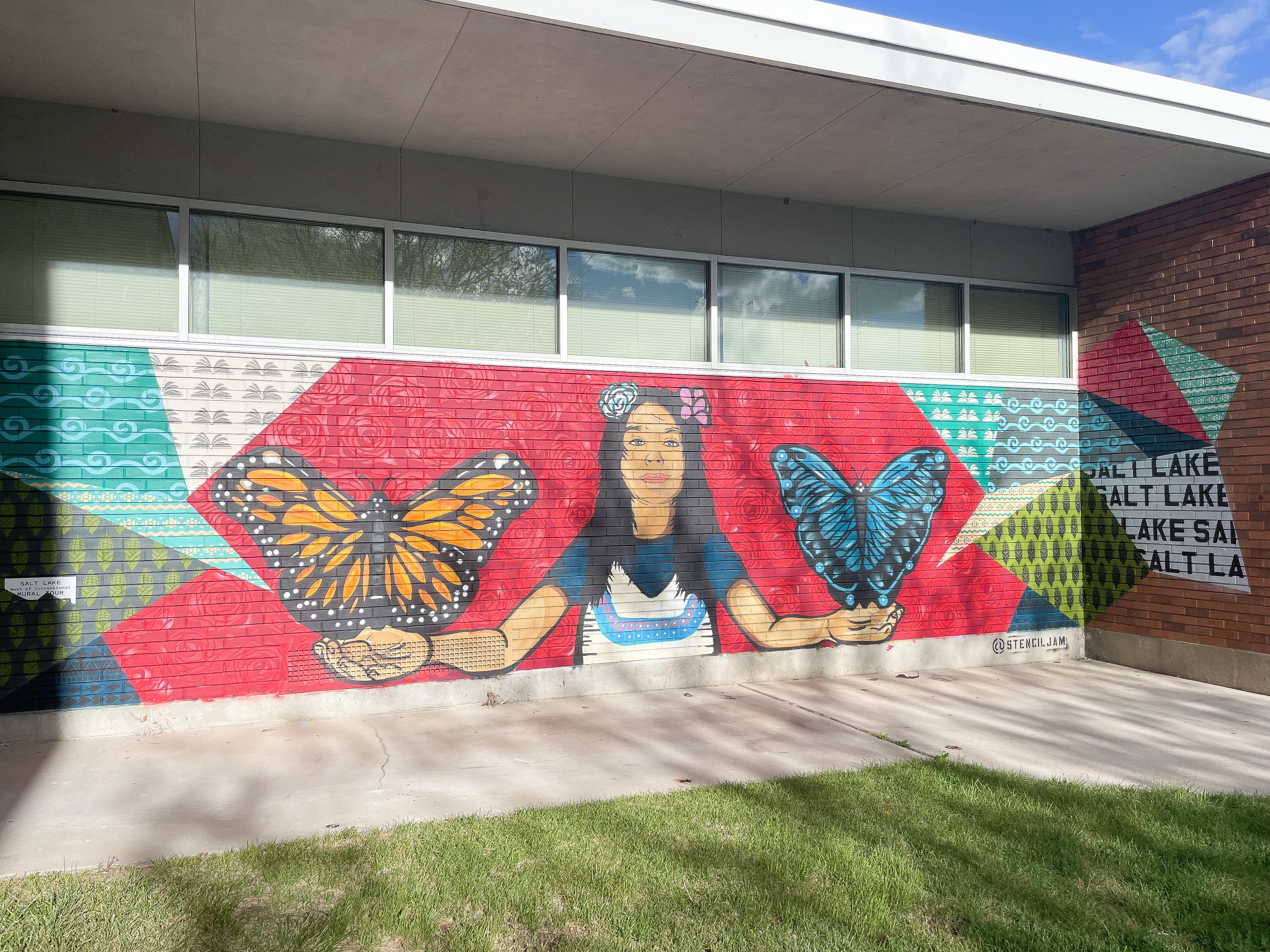 My final stop brought me to Rose Park where the artist, Jorge Arellano, had the kids of the neighborhood help paint the mural. Their vision was to represent the people of the neighborhood while also honoring the diversity of culture and traditions. The colors used were inspired by Polynesian and Mexican themes.


I truly enojyed my journey around Salt Lake Valley finding all these murals. Each one reminded me in a different way of why I have loved living in Utah, and particularly Salt Lake so much!
Thinking about making a move to Salt Lake City or the surrounding areas? Give us a call today at 801-518-1646! We would love to help you along your life journey to outdoor adventure and so much more this beautiful state has to offer!