Friday, April 15, 2022 / by Rachel Green
We've all seen the headlines – Inflation hits highest mark since 1981. But what does that mean for real estate? Inflation and appreciation are two different variables, and both are on a steep incline lately. Inflation is the cost of goods as it relates to the value of currency, where appreciation refers to the rising value of an asset. Add rising interest rates (adjusted to slow appreciation) and literally everything is costing more these days.
Before we dive into the specifics of inflation and our market, we wanted to share some staggering statistics about appreciation.
The median sold price for single family homes in Salt Lake County was $628,000 in March. Exactly two years ago at the end of March 2020, it was $410,000. That is a staggering 54% increase in just two years.
For condos in Salt Lake County the rate of increase is essentially the same, going from $244,000 in March 2020 to $381,000 in March of 2022, which is a 56% increase.

But this does not mean that every home appreciated more than 50% in two years. The price increases are due also to home improvements completed in the last 18 months, causing that median price to shift even more. According to the Joint Center for Housing Studies at Harvard University, remodeling has increased by a staggering 3% ahead of its upward trend since 2010 and 60% of homeowners completed a DIY project to improve value in the last two years.
So what does this mean for you? Well if you're gearing up to sell this year, you'll need to know precisely how much appreciation your personal home has enjoyed. Knowing this information will allow you to plan your next chapter. So reach out to us for an individualized assessment of your home, because as we all know, every neighborhood is different.
Now back to the question at hand – What do inflation and rising interest rates mean for the Utah Housing Market?
Well, for starters, it's making it a slightly more friendly place for buyers. The last 18 months have been no cake walk for buyers. Here at Salt Lake Homes | Real Broker LLC, we have stayed ahead of trends and have been winning every week with buyers – but that didn't come easy.

The rate of mortgage applicants has slowed and inventory is increasing in Salt Lake County. This is yielding slightly fewer bidding wars. On a listing we took in June 2021, we received 22 offers, but a listing in the same complex listed in March received just 12 strong offers. Even 12 offers on a condo is ahead of what most sellers are seeing this month.

In 2014, I was interviewed by Fox 13 along with my buyer (who is now a Realtor with Salt Lake Homes | Real Broker LLC) about how multiple offers on homes is putting the pressure on buyers. Fast forward eight years and we're still seeing multiple offers on many homes. Of course the last 18 months were even more aggressive on the buyer side, but this certainly isn't how it's supposed to be long term. In an equilibrium market, there is one great home for every buyer.
I mentioned the increase in inventory, but let's take a closer look. This graph shows today's inventory vs. last year on the same day. This isn't specific to today, as we've been running this report almost daily for weeks to watch the trend in inventory and under contract properties. More inventory means more options for buyers, but we still are in the midst of a housing shortage and the rate of growth for Utah is still outpacing the national average.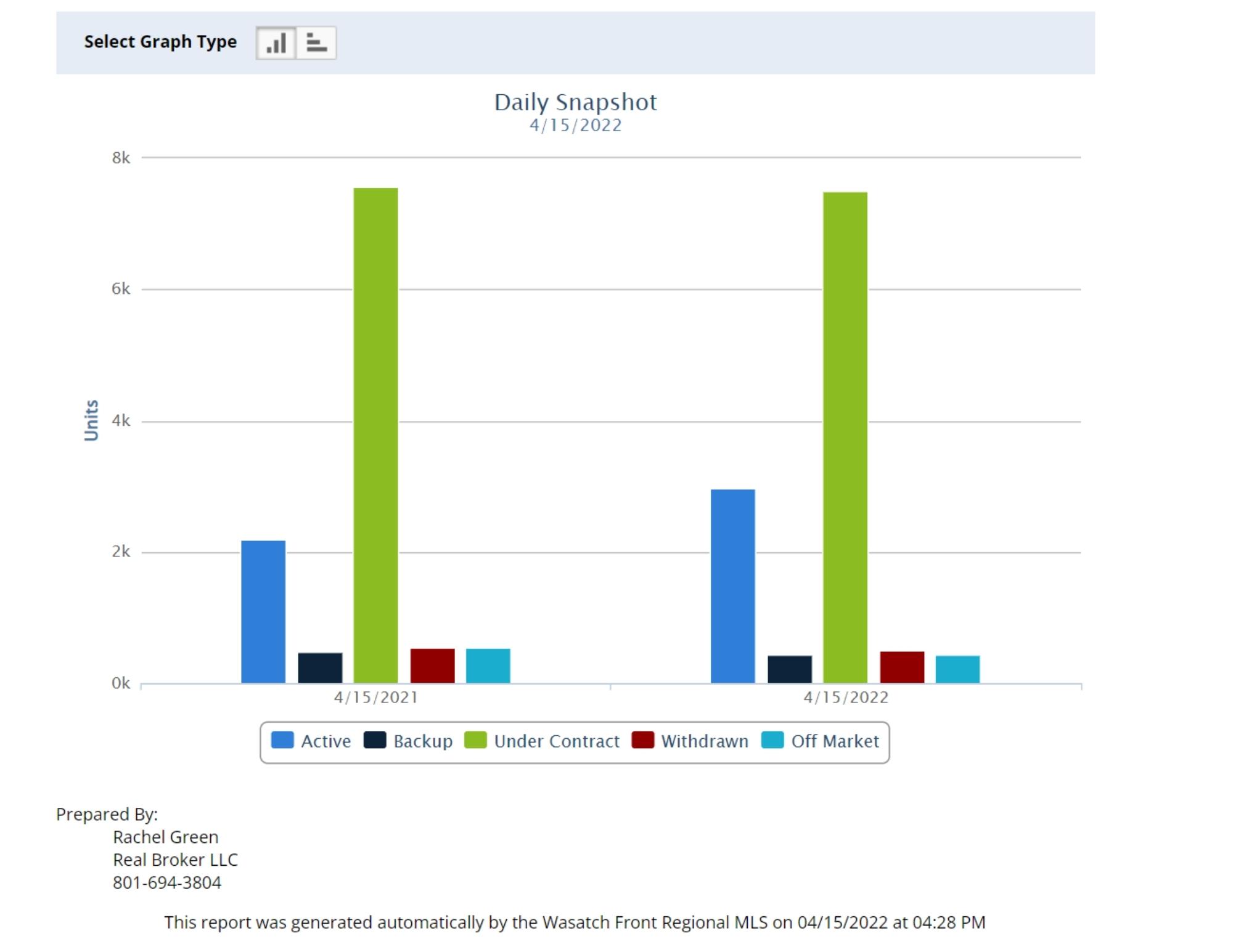 The amount of active listings (homes that are on the market but have not yet accepted an offer) has been trending up in Salt Lake, ranging anywhere between 11-15% higher than the same time last year. For example, as of March 31, 2022 there were 586 active listings, and on March 31, 2021 there were 496, so that's an 18% increase.
Salt Lake County – March 2022
Single Family Homes, Year/Year
$628,000 median sold price

, which is a 25% jump from last year when it was $500,000

$250 median sold price per square foot, up 22% from last year

846 total units sold, which is a 11% decline from last year when there was 947 units sold

5 median days on market, which is exactly where we were last year
For now, demand remains very strong here in Utah so it is a great time to sell. And if you're a buyer, possibly hesitant to enter the market, don't be! There are more listings, slightly fewer bidding wars, and lots of opportunity for you to find that perfect home.

This is great news for sellers and buyers alike! So what are you waiting for? Give us a call, text and we will help you make the most out of the purchase or sale of your home. Reach out to us today! 801.893.1088

If you are concerned about the monthly mortgage payment due to increased interest rates, give us a call and well will discuss options that can help offset this.

In case you missed the 2022 Housing Forecast, check it out here. So far, it's showing true, but rates have outpaced predictions.